Mental health conditions do not discriminate based on race, color, gender or identity. Anyone can experience the challenges of mental illness regardless of their background. However, background and identity can make access to mental health treatment much more difficult. National Minority Mental Health Awareness Month was established in 2008 to start changing this.
Each year millions of Americans face the reality of living with a mental health condition.
Taking on the challenges of mental health conditions, health coverage and the stigma of mental illness requires all of us. In many communities, these problems are increased by less access to care, cultural stigma and lower quality care.
Strength Over Silence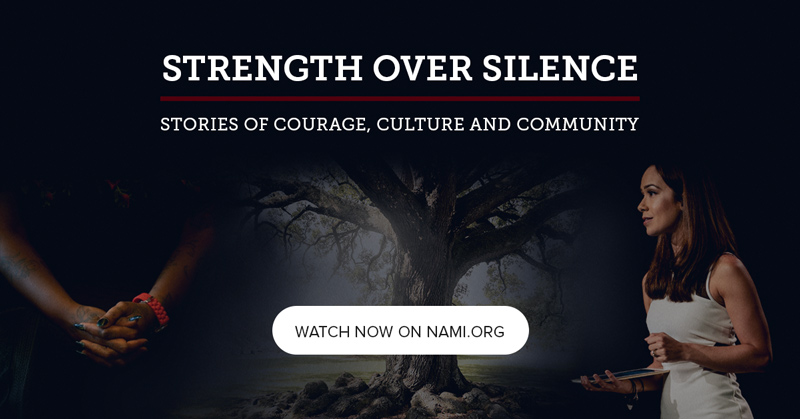 Watch the NAMI docuseries, Strength Over Silence: Stories of Courage, Culture and Community. NAMI explores unique perspectives on mental health from the African-American and Latino communities. Through candid and courageous stories of lived experience, these mental health champions share their journeys of resiliency and recovery.
WhyCare
The WhyCare? campaign is an opportunity to share the importance of care in our relationships to others, in mental health treatment and services and in support and education to millions of people, families, caregivers and loved ones affected by mental illness. Demonstrating how and why we care brings more to awareness by showing our actions and connections to others. Care has the power to make a life-changing impact on those affected by mental health conditions.
Help us spread the word through awareness, support and advocacy activities. Share minority mental health awareness information, images and graphics for #MinorityMentalHealth throughout July.
America's entire mental health system needs improvement, including when it comes to serving marginalized communities. Learn more about how you can get involved with Minority Mental Health Awareness Month.
Original article from NAMI: https://www.nami.org/Get-Involved/Raise-Awareness/Awareness-Events/National-Minority-Mental-Health-Awareness-Month
https://www.dmmhrsb.org/wp-content/uploads/2019/07/strengthoversilence-teaser.jpg
419
800
DelmorMHRSB
https://www.dmmhrsb.org/wp-content/uploads/2018/12/DMMHRSB-Logo-with-Tag-SM-1.png
DelmorMHRSB
2019-07-04 08:16:07
2019-07-04 09:08:34
July is Minority Mental Health Awareness Month